Burlington County Fire Marshal's Association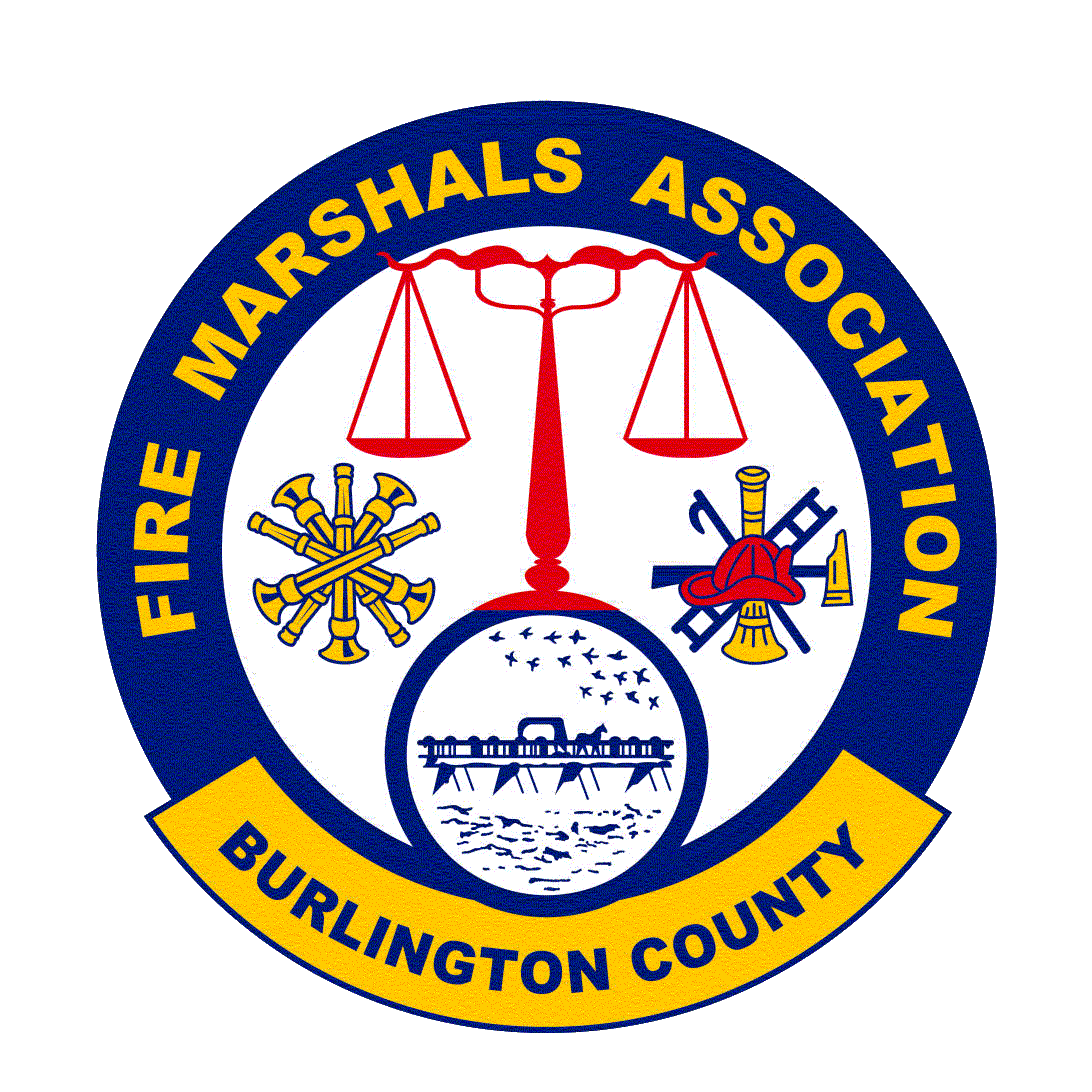 Welcome to the Burlington County Fire Marshal's Association Web Site.
Look below or to the menu to the left for anything we can help you with.
Mission Statement:
The Mission of the Burlington County Fire Marshals Association is to preserve life and property from Fire, Explosion and other related hazards through Fire Prevention, Safety Education, Code Enforcement, and Fire investigation.
---
Rossen Reports Update: How to Use a Space Heater Safely
Space heaters are popular devices for a number of reasons: They're small, cost efficient and can keep your family warm.
But it turns out, many people use them incorrectly and in an instant, tragedy can strike.
---
TRAINING OPPORTUNITY!!!!
The South Region of the New Jersey Chapter of the International Association of Arson Investigators
is looking to run an 80 hour Basic Fire Investigation Class starting in September of 2018.
Cost will be $475 for members and $525 for non members.
If interested CLICK HERE to MESSAGE the
New Jersey Chapter of the IAAI and you will be added to the list
---
Kidde Recalls Combination Smoke/CO Alarms Due to Alarm Failure
Front of Unit with
Wire Connectors

Front of Unit

Back of Unit
Name of product:
Combination smoke/carbon monoxide (CO) alarms
Hazard:
The combination smoke/carbon monoxide (CO) alarm can fail to continue to chirp when it reaches its 7-year end of life if the batteries are replaced, leading consumers to believe it is still working. This poses a risk of consumers not being alerted to a fire or CO incident in their home.
Remedy: Replace
Recall date: November 10, 2016
Recall number: 17-031
Description:
This recall involves Kidde NightHawk talking combo smoke/CO alarm with model number KN-COSM-IB and manufacture dates between June 1, 2004 and December 31, 2010. The alarms are hard-wired into a home's electric power. The unit has a compartment on the back for the installation of a replaceable 9V backup battery. The alarm is white, round and measures about 5 to 6 inches in diameter. "Kidde" is engraved on the front of the alarm. "Kidde," the model number and manufacture dates are printed on a label on the back on the alarm.
Remedy:
Consumers should immediately stop using the recalled alarms and contact Kidde directly for a free replacement alarm based on date of manufacture or a discount on a new alarm.
Incidents/Injuries:
Kidde has received eight reports of incidents with the recalled alarms. No injuries have been reported.
Sold At:
Electrical distributors and home centers nationwide and online at Amazon.com from June 2004 through December 2010 for between $40 and $65.
Importer(s): Walter Kidde Portable Equipment Inc., of Mebane, N.C.
Manufactured In: China
---
Kidde Recalls Fire Extinguishers with Plastic Handles Due to Failure to Discharge and Nozzle Detachment: One Death Reported
This recall involves two styles of Kidde fire extinguishers: plastic handle fire extinguishers and push-button Pindicator fire extinguishers.
Plastic handle fire extinguishers: The recall involves 134 models of Kidde fire extinguishers manufactured between January 1, 1973 and August 15, 2017, including models that were previously recalled in March 2009 and February 2015. The extinguishers were sold in red, white and silver, and are either ABC- or BC-rated. The model number is printed on the fire extinguisher label. For units produced in 2007 and beyond, the date of manufacture is a 10-digit date code printed on the side of the cylinder, near the bottom. Digits five through nine represent the day and year of manufacture in DDDYY format. Date codes for recalled models manufactured from January 2, 2012 through August 15, 2017 are 00212 through 22717. For units produced before 2007, a date code is not printed on the fire extinguisher.
---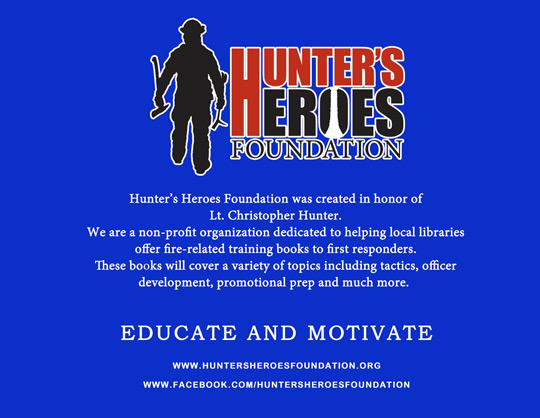 ---
Speaker Prieto & County Executive Tedesco
Announce New Fire Safety Legislation for Multi-Unit Buildings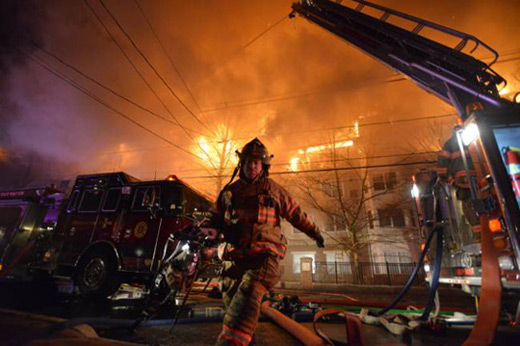 Assembly Speaker Vincent Prieto was recently joined by Bergen County Executive Jim Tedesco to announce new legislation they have developed together to improve fire safety at multi-unit residential buildings, both during and after construction.
The bills, which have been introduced in the State Assembly, seek to modify the state's Construction Code to address fire safety issues brought to light by the major fire in Edgewater in 2015, as well as others that have occurred around the state.
"Ever since the horrible fire that happened in Edgewater I have been meeting with the many stakeholders involved in this important issue with a goal of creating a legislative solution that will address the safety issues that have become apparent in large residential development in our state," said Prieto (D-Hudson/Bergen). "Today I am proud to stand with County Executive Tedesco to announce two bills that we have worked together on that will hopefully prevent another disaster like the ones we have seen from ever happening again."
The two Assembly bills (A-96 and A-97) are sponsored by Speaker Prieto along with Assemblywoman Angelica Jimenez (D-Hudson/Bergen), Assemblyman Tim Eustace (D-Bergen/Passaic) and Assemblyman Joe Lagana (D-Bergen/Passaic).
The bills would make several changes to the Construction Code aimed at improving fire safety, including:
· Mandating that fire suppression sprinkler systems be installed in concealed combustible spaces such as common cocklofts and other locations not covered by current building codes in lightweight wood construction exceeding two stories, consistent with NFPA 13 regulations;
· Mandating that unprotected and unheated wood-framed attic areas shall be protected by a dry type sprinkler system in buildings composed of lightweight wood construction;
· Limiting height of lightweight wood construction buildings that do not meet NFPA 13 regulations to two or fewer stories, and limiting per story floor area to 10,000 square feet unless a minimum two-hour masonry or concrete fire wall is included between each attached building;
· Implementing a Fire Watch at major residential construction sites during times when construction crews are not at work staffed by at least one dedicated person with expertise in fire safety;
---
The recall involves the Kidde NightHawk talking combo smoke/carbon monoxide alarm with model
number KN-COSM-IB and manufacture dates between June 1, 2004 and Dec. 31, 2010.
The alarm can fail to continue to chirp when it reaches its seven year end-of-life,
even if the batteries are replaced, leading consumers to believe it is still working.
Kidde has received eight reports of incidents with the recalled alarms; no injuries have been reported.
Consumers should immediately stop using the recalled alarms and contact Kidde for a free replacement alarm.
Consumer Contact: Kidde toll-free at 855-239-0490 from 8 a.m. to 5 p.m. ET Monday through Friday or
online at www.kidde.com and click on "Product Safety Notice" for more information.
---
Why You Have Less Time to Escape a House Fire Today than 30 Years Ago
Research shows that 30 years ago, you had about 17 minutes to escape a house fire.
Today, you have only 3 or 4 minutes.
TODAY national investigative correspondent Jeff Rossen conducts a dramatic demonstration that
shows why, and how you should prepare.
---
Fire safety checklist for homeowners and renters
---
Fire Officials' Calls to Toughen Code Going Unheard; Lack of
Action After Avalon Disaster Protested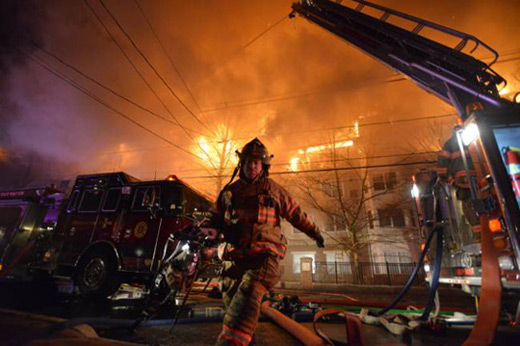 Seven months after the devastating fire that ripped through a large apartment complex in Edgewater, fire officials are renewing calls to lawmakers and Governor Christie to strengthen fire-safety standards for new buildings, as developers continue to submit plans for residences similar to the Edgewater structure.
In the wake of a five-alarm fire in January that destroyed more than half of the 408 units of the Avalon apartment and displaced hundreds of residents, some lawmakers called for changes to the state building codes to require sturdier material, firewalls and enhanced sprinkler systems. But none of the bills introduced has been voted on.
The lethargy surrounding proposed changes has frustrated fire officials, who say tougher fire codes would protect residents and firefighters. On Sunday, leaders from a variety of firefighters organizations stood before the razed building in Edgewater and demanded action.
"This is not something that needs to be studied to death," said Glenn Corbett, a former assistant fire chief in Waldwick and a member of the Bergen County Fire Chiefs Association. "It's pretty clear what the problem is and what the solution is. It's just that they don't have the political willpower in Trenton to change it."
Meanwhile, developers, including AvalonBay, which built the Edgewater complex, are presenting plans to local zoning and planning boards to build more multifamily dwellings.
The firefighters associations are calling for changes to the state Uniform Construction Code to limit wood-frame construction to three floors and 20,000 square feet per floor, and to require more sprinklers, including in attic spaces, and masonry fire walls between buildings.
---
Christie Torches Bill To Require All New Homes Have Sprinklers
On May 7, 2015 Gov. Chris Christie on rejected a bill that would require all new single and two-family homes in New Jersey to be equipped with sprinkler systems.
Christie conditionally vetoed the bill (A1698), taking out its most substantial provisions and instead recommending that the state Department of Community Affairs study whether it should require sprinklers for only new townhouses.
"Mandating sprinkler installation would increase the upfront cost of every new freestanding home by thousands of dollars, even as this state's citizens continue the struggle to rebuild their lives after Superstorm Sandy," Christie wrote in his veto message. "That storm left unprecedented damage across the state in its wake, leaving whole communities devastated and entire houses demolished. This bill would further burden New Jerseyans rebuilding their homes after Superstorm Sandy."
Added Christie: "With all construction, the law must reach the right balance between safety and cost, and I am concerned about any bill that would jettison traditional considerations in place of an unyielding mandate."
But Christie said that it can be more affordable to install sprinkler systems in townhouses and that, since they're attached, there's more risk of a fire spreading from one house to another.
"If, after comparing the marginal cost of such devices with their marginal benefits, DCA determines that sprinklers in such structures are warranted, then DCA should amend the Uniform Construction Code as it deems appropriate," Christie wrote.
This is the second time Christie has vetoed the bill. In January 2014, at the end of he last legislative session, he let a previous version lapse without taking action.
---
Centerton Bridge Closed Indefinitely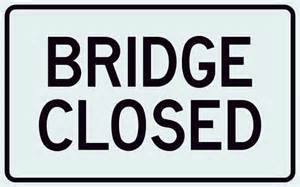 The Burlington County Division of Roads and Bridges has announced that the Centerton Bridge is closed, and will remain closed indefinitely. We will provide updates as they become available. The bridge spans the Rancocas Creek between Centerton Road in Mount Laurel and Bridge Street in Westampton and Willingboro. Use Interstate 295 between exchanges 43 and 45 as an alternate route.
---
SolarPro Magazine

Rapid Shutdown for PV Systems - Understanding NEC 690.12
---
UL Warns of Counterfeit Fire Sprinkler
NORTHBROOK, IL- Dec. 31, 2014 – The following is a notification from UL that the fire sprinkler identified below bears a counterfeit UL Certification Mark for the United States and Canada. The fire sprinkler has not been evaluated by UL to the appropriate Standards for Safety and it is unknown if the fire sprinkler complies with any safety requirements.
Although the fire sprinkler's wrench boss is marked "TYCO" the fire sprinkler was not manufactured by Tyco, its affiliates or agents.
---
Why You Should Not "TRUST THE TRUSS"
---
Coffee Break Training: Fire Threats from Sky Lanterns
---
Study Finds Firefighter Cancer Rates Have Increased
Running toward burning buildings is a risk firefighters face daily. But the true cost of the job could appear years later, reports USA Today.
Firefighters have higher rates of cancer than the rest of us, according to a recent study by the National Institute of Occupational Safety and Health. Cancers of the respiratory, digestive and urinary systems account for much of the reported cases, the study found.
---
Study: Firefighters Have Higher Rates of Cancer
---
New Jersey Division of Fire Safety Fire Focus
---
Underwriters Laboratories Firefighter Safety and Photovoltaic Systems Training Video
---
Fire Inspectors: Still Trustworthy
In the past several months people impersonating Fire Inspectors have been in the news. These people have given the profession of Fire Inspecting a bad name. They have utilized the title and in some cases the uniform to gain entry into an establishment. When in these establishments they would steal items or charge for the service they were supposedly performing.

The Burlington County Fire Marshal Association which represents Fire Marshals and Fire Inspectors from throughout Burlington County would like to make it clear that a Fire Inspector is still a trustworthy individual. A Fire-Inspector is very professional and cares about what he/she does and the community in which they serve. To become a Fire-Inspector one must obtain a license through the State of New Jersey. He/she must attend continuing education classes on a regular basis. Fire-Inspectors are dedicated to their profession and their communities.

The Burlington County Fire Marshal Association has listed a few items below to help safeguard against these impersonators.

Know Your Inspectors:

Most Fire-Inspectors will be wearing a uniform or something with the agencies name on it. Just because they have a uniform on don't assume they are who they say they are.

All Inspectors (Fire, Building, Electrical, Plumbing and Water Dept.) will have a picture identification card on them at all times. This card will have their name and department as well as a contact number. If you have any doubt, contact your municipal office before allowing access.
A Fire-Inspector must have his/her Inspector license with them; don't be afraid to verify this with their ID tag or Driver's License.
A Fire-Inspector would never come to any type of residential home without being scheduled to do so.
A Fire-Inspector is required to give you a certificate or a violation notice with the date in which he/she performed the annual inspection. If you have any doubt about the timing of the inspection; thinking the Inspector was just there, then just check this paperwork and the date. As mentioned these inspections are annual with the exception of a few.
In most cases a Fire-Inspector will not take any kind of payment in the field. If he/she does it should be in the form of a check, made out to the agency in which they are performing the service for.
Maintenance on Fire Extinguishers, Alarms, and Sprinklers are typically scheduled annually by a private company. Check the tags or previous bill to see when they were last performed. When in doubt, contact the company to verify someone should be out there. These services being performed are billable; never pay cash if you are unsure.

Most departments go through great lengths and expenses to ensure that their Inspectors are identified; you are not inconveniencing them by asking for this information.

If you should have any questions contact your local Fire Prevention Office or go to our web site www.bcfma.org
---

M


---
Burlington County
Fire Marshal's Association 2018 Officers

President: Robert Carr, Jr.
Vice President: Robert Worrell
Secretary: Robert L. King - rking@bcfma.org
Treasurer: Howard N. Wilkins - hwilkins@bcfma.org
Trustee: Walt Bauer
E.S.A.B. Representative: Ryan Hoffman
---
To e-mail the webmaster: webmaster@bcfma.org
© Copyright 2018, Burlington County Fire Marshal's Association